Michael Frazer. Songsmith.
To Get You Off My Mind (Whistling Song)
A fast driving power pop song about infatuation.
Catchy riffs, and simple melodies drive this song relentlessly on to a cliff-edge where it drops you into the beautifully wistful relief of whistling and guitar.
(Released 26th Feb 2021)
UnplugGed 2020
I was invited to take part in the Unplugged On The Couch sessions set up by Oli from Germany's Radio TFSC.
It was a challenge I couldn't refuse, having never performed solo before with just an acoustic guitar. The Unplugged 2020 E.P. features acoustic versions of six songs from my first two albums.
the fish that swallowed the moon
I spent a few years creating and recording the songs for this, my second album: the fish that swallowed the moon. Released on the 12th October 2018.
It's a solo piece of work. This time however, I called in the professionals to mix and master it. Between them, Brian Reeves and Pete Maher have an amazing body of work. Brian did a great job mixing, giving everything a place, and space to be heard. And Pete's mastering renders the songs in a warm, quality soundscape.
nowhere is here
My first solo album. Some fond memories of creating these songs in an incredibly pressured timescale, on some very basic, but good equipment. Decent sound too, considering.
I originally put this album out under the name of 'redhouse' in 2000. Now I've taken it back under my own name.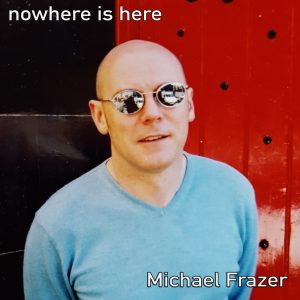 Songsmith…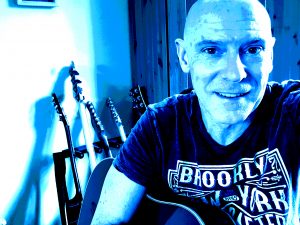 Michael Frazer. Songsmith? I chose this word carefully, though it could be said to have a slightly pretentious ring to it.
What do I mean by it? When I work on a song, I don't always just sit at an instrument and 'write' it, then create the instrumental parts to accompany it. Though that does happen on some songs like Signs, Sister Lisa, North etc.
Some of my songs just keep on evolving as I audition ideas, and instruments and structures. So I feel they are smithy'd out rather than written … hence Michael Frazer. Songsmith.